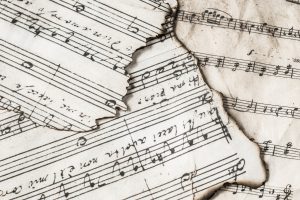 The Esterhazy Singers are seeking an inspirational new Musical Director to replace our current MD, Andrea Brown, who is leaving after five successful years.
Based in the City of London and celebrating its 50th Anniversary this year, the Esterhazy Singers is an auditioned choir of around 40 singers, rehearsing on Tuesday evenings.  Covid-19 restrictions have curtailed our recent activities, although we have continued with online rehearsals and one or two virtual performances.  With a wide repertoire ranging from Renaissance polyphony to contemporary music, we have been used to giving three or four concerts a year, usually in City churches, and have enjoyed in recent years singing at Evensong in St Paul's Cathedral as well as undertaking short summer UK tours.
Our future Musical Director will have an extensive knowledge of the choral repertoire, and will be able to inspire the choir and develop its musical abilities.  The Musical Director must be able to book and work with professional musicians and ensembles and advise the committee on all requirements for concerts.
In conjunction with the committee, the new MD will be expected to play a role in attracting and retaining new members.  A professional pianist accompanies our rehearsals and as acts on occasion as sectional leader and conductor.  The choir has a choral scholars programme for one young person in each voice part.  The new MD will be well supported by the choir's committee, with its members taking responsibility for matters such as membership, liaison with venues, publicity, finance etc.
Job description
The Musical Director's responsibilities include:
conduct weekly rehearsals, usually, but not exclusively, during term time
attract and retain singers to grow membership
audition new choir members (and re-audition existing members) and advise the committee
enhance the choir's vocal abilities
conduct three concerts a year, and additional events as agreed
engage professional artists and instrumentalists for concerts, when required
manage a choral scholars programme in consultation with the committee
advise the committee on repertoire, programming and other aspects of concerts
arrange a deputy conductor if needed
join the committee and attend meetings when required (about 6 a year)
attend the choir's AGM and submit an annual report
Person specification
The successful candidate will demonstrate the skills and experience required to develop and grow a high-quality amateur choir, including:
inspirational choral leadership, with experience of conducting a choir of up to 50 voices
a positive and encouraging approach to working with singers of varied experience and an ability to help them perform to the best of their capabilities
knowledge of the choral repertoire, to programme an attractive series of concerts
ability to conduct choir, soloists and orchestra in concerts and to work with accompanists and other musicians, including young choral scholars
building links and partnerships with other organisations to support the choir's development
Conditions
Remuneration will be according to qualifications and experience, with detailed terms of appointment to be discussed with the eventual preferred candidate.
Process
Applicants should send a CV (not more than 2 sides of A4) and covering letter to apply@esterhazysingers.com  by 30th June 2021.  Please include the names and contact details of two referees.  If you would like an informal conversation about the role and the choir, please indicate this in your cover letter, and provide a contact phone number.    If wished, links to any examples of online musical material that you have made may be provided. 
Shortlisted candidates will be notified by the end of July,  with the aim of holding interviews thereafter, either in person or online.  Following this, successful candidates will be invited to conduct a brief rehearsal of the choir, the timing for this being dependent on prevailing Covid regulations.